39.640649
-77.713718
Clarion Hotel Hagerstown
Close
a
b
c

39.640649
-77.713718
Clarion Hotel Hagerstown
Close
Weather station: Antietam Cable Television Inc, Hagerstown MD
Partly Cloudy
Wind: 0 mph S
72.7°F
High Today: 74°F
Low Today: 73°F
Feels Like: 73°F
Humidity: 88%
Pressure: 29.85"
Rain Today: 0"
More Info
Forecast for Wednesday
50% Chance of Storms
Partly sunny. Patchy fog in the morning. A slight chance of showers in the morning...then a chance of showers and thunderstorms in the afternoon. Highs in the mid 80s. Southwest winds 5 to 10 mph. Chance of rain 50 percent.
Forecast for Thursday
Thunderstorms
Mostly cloudy. Showers and thunderstorms likely...mainly in the afternoon. Highs in the lower 80s. South winds 10 to 15 mph. Chance of rain 70 percent.
More Info
Clarion Hotel Hagerstown

Print This
301 Dual Hwy
Hagerstown, MD 21740 US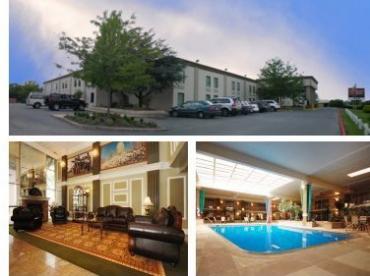 Directions
2 mi from I70 and 3 mi from 81 on Route 40.
Phone Number:
(301) 733-5100
Reservation Number:
(888) 528-6738
GPS:
39.640649,-77.713718
Description
Our award winning newly renovated Hotel will stun you located in a natural setting among lush green Allegheny Mountains and ski fields. Renovations include new roof, new lobby, eco friendly hot water, brand new rooms, ADA accessible rooms, external and internal landscaping, new look temperature controlled atrium with heated indoor pool, poolside bar and cascading waterfall.
Amenities
Air-Conditioner, Alarm Clock, ATM, Business Center, Coffee Maker, Conference Room, Cribs, Desk, Fitness Center, Free Breakfast, Hairdryer, Handicap Accessible Room, In-Room Safe, Iron/Ironing Board, Kitchenette, Laundry, Limo Service, Maid Service, Microwave, Non-Smoking Rooms, Pet Friendly, Pool View Room, Radio, Refrigerator, Restaurant, Rollaway Beds, Room Service, Security, Store, Suites Availiable, Swimming Pool, Telephone, Wake-up Service, Wired Internet, Wireless Internet,