28.25515
-81.469379
Aloha RV Park
Close
a
b
c

28.25515
-81.469379
Aloha RV Park
Close
Weather station: Kissimmee Municipal Arpt, Kissimmee FL
57.2°F
High Today: 57°F
Low Today: 57°F
Feels Like: 57°F
Humidity: 41%
Pressure: 30.31"
Rain Today: N/A"
More Info
Forecast for Thursday
Mostly Clear
Clear through early morning then becoming mostly clear. Lows in the lower 50s. North winds 10 to 15 mph decreasing to 5 to 10 mph after midnight.
Forecast for Friday
Partly Sunny
Partly sunny. Highs in the mid 70s. Northeast winds 5 to 10 mph becoming east 10 to 15 mph in the afternoon.
More Info
Aloha RV Park

Print This
4648 S Orange Blossom Trl
Kissimmee, FL 34746 US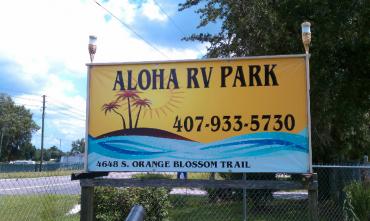 Amenities













Primary Number:
(407) 933-5730
GPS:
28.255150,-81.469379
Dates of Operation:
Year Round
Reservations:
Drive Ups Welcome
Directions
From I4W:Take exit 68, take left onto 535, take right onto Poinciana Blvd, go 7 mi, take left onto 1792 S Orange Blossom Trl and Aloha driveway is 1 mi on the right. From I4 E:Take exit 58, take right, follow rd to end, take left onto 1792 S Orange Blossom Trl, go 8 mi and Aloha driveway is on the right.
Notes
Weekly rates (Reg:$185.00-FR:$138.75) available.